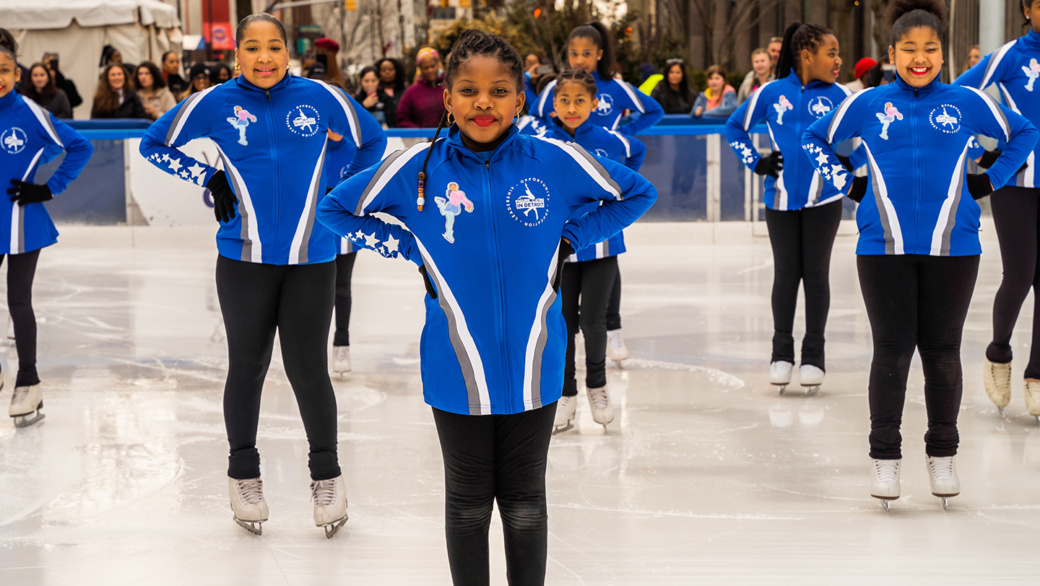 Building Champions in Life with Figure Skating in Detroit
Like the figure skating industry as a whole, most figure skating clubs in metro Detroit are predominantly white. Figure Skating in Detroit (FSD) intentionally provides girls of color a space to grow and cultivates a sense of sisterhood.
"We put women in front of them who are doing the things they could see themselves doing. We make sure they meet with and talk to women who look like them," explains Executive Director Lori Ward. The program works with girls from 1st through 12th grade, a significant growth and transition period. It is well documented that in early adolescence, many girls participate less at school and fall behind academically, do not engage in play and sports as much, and develop unhealthy body images. Apart from these challenges, girls participating in FSD's programming face systemic challenges like generational poverty and racism.
FSD's program is designed to help girls build leadership and life skills and strengthen their academic achievement while partaking in fitness and figure skating training. It is modeled after Figure Skating in Harlem, an organization that has served girls for the past 25 years. The Harlem team wanted to develop a new chapter and, after a nationwide search, selected Detroit. FSD provides an after-school program titled I Can Excel (ICE), a summer day camp, and community workshops.
ICE includes on-ice instruction and off-ice educational programming. Girls are provided with ice skating equipment and practice 3-5 days a week. Everyone performs during the end-of-season show, and girls can audition for one of three synchronized skating teams. Another program called Girls Off-Ice Fitness Investment Training (GO-Fit) teaches them nutrition, fitness, balance, and body awareness through different fitness classes. To improve academic achievement, girls receive tutoring for homework and tests, and their math and reading proficiency is tracked to identify performance below grade level. Through hands-on activities, workshops, and field trips, they explore STEM (Science, Technology, Engineering, and Math) concepts, are exposed to various college options and career pathways, and learn life skills such as financial literacy and communication.
FSD leads workshops on topics including financial literacy, STEM, and entrepreneurship. The emphasis on entrepreneurship is unique to the Detroit chapter. Speakers share their businesses, what it is like to start a business, how to develop business plans, and how to market your business. FSD's summer camp mirrors its after-school program. Girls work on STEM projects, learn from inspirational guest speakers, and engage in fitness activities alongside daily instruction on ice. The camp culminates in an ice skating performance.
By providing different types of programming, FSD can reach many girls across the city. In 2021, more than 50 girls participated in their after-school programming, their workshops targeted 100-150 girls, and the summer camp reached 75 girls. The organization offers tuition based on income for its capstone after-school program and provides scholarships for anyone who needs it. They never turn any family away based on affordability. Support from the Ralph C. Wilson, Jr. Legacy Funds have also been instrumental in ensuring participants have what they need to access and use ice rinks. With the funds, FSD has been able to secure time at metro Detroit ice rinks to host their programs and purchase high-quality skating equipment, including guards, bags, uniforms, and custom-fit, comfortable skates.
When FSD began in 2017, skater Carrington Conley came to the organization from a synchronized skating team at a predominantly white club, where she felt siloed. At FSD, Carrington found a sense of belonging and was able to express herself through ice skating without feeling discriminated against. Apart from ice skating, she also had an interest in teaching. FSD facilitated opportunities for her to shadow people working in the field and helped her find an internship. Shortly after her high school graduation in 2020, she applied and was interviewed to be a counselor at FSD. She has since graduated from esthetician school and continues to work as a counselor with the organization.
In March 2022, FSD held its second annual fundraising event, "Skating with the Stars," at Campus Martius Park. Girls performed three numbers with Olympic gold medalist Meryl Davis, figure-skating champion Starr Andrews, and Miss Michigan Teen 2020 Aneesa Sheik. A few of them shared their experience with the program and plans for the future: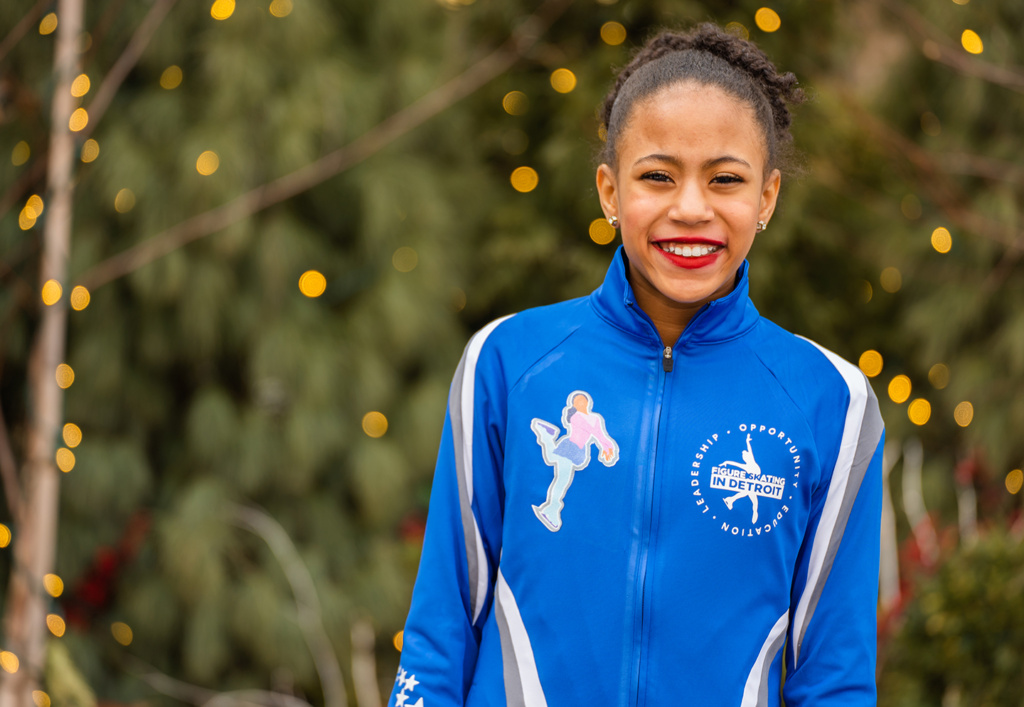 "My favorite part about figure skating is learning how to do new things like jumps and spins. The program helps me with my confidence on ice and helps me become a better skater." – Anaiya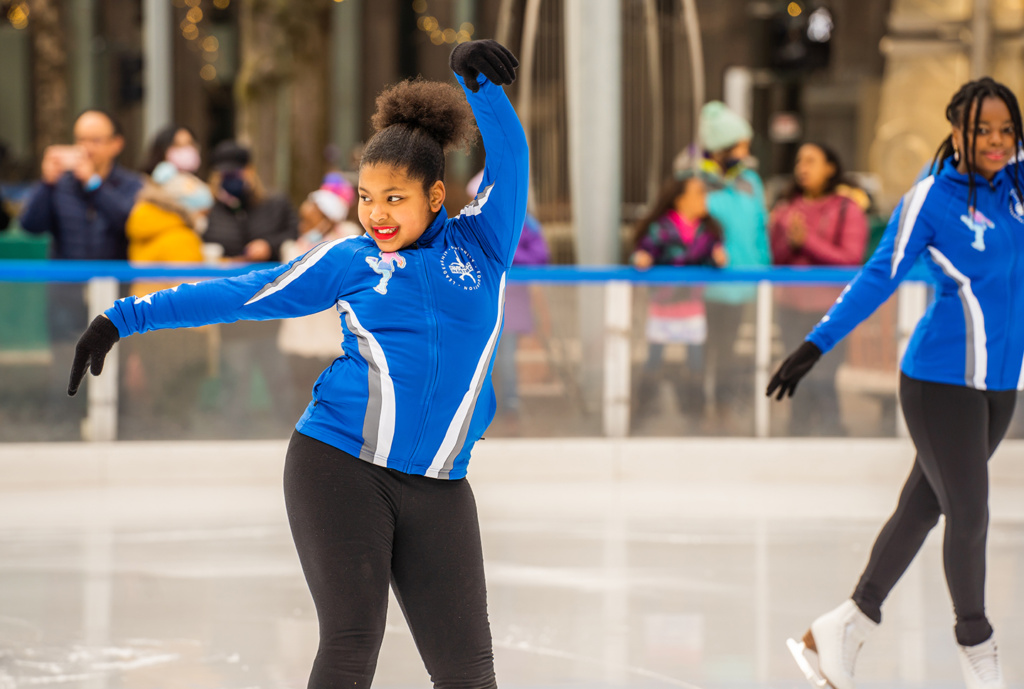 "Figure skating helps me build self courage and makes me feel empowered just to know that Black girls can do anything and everything. It's a very uplifting group." – Karrington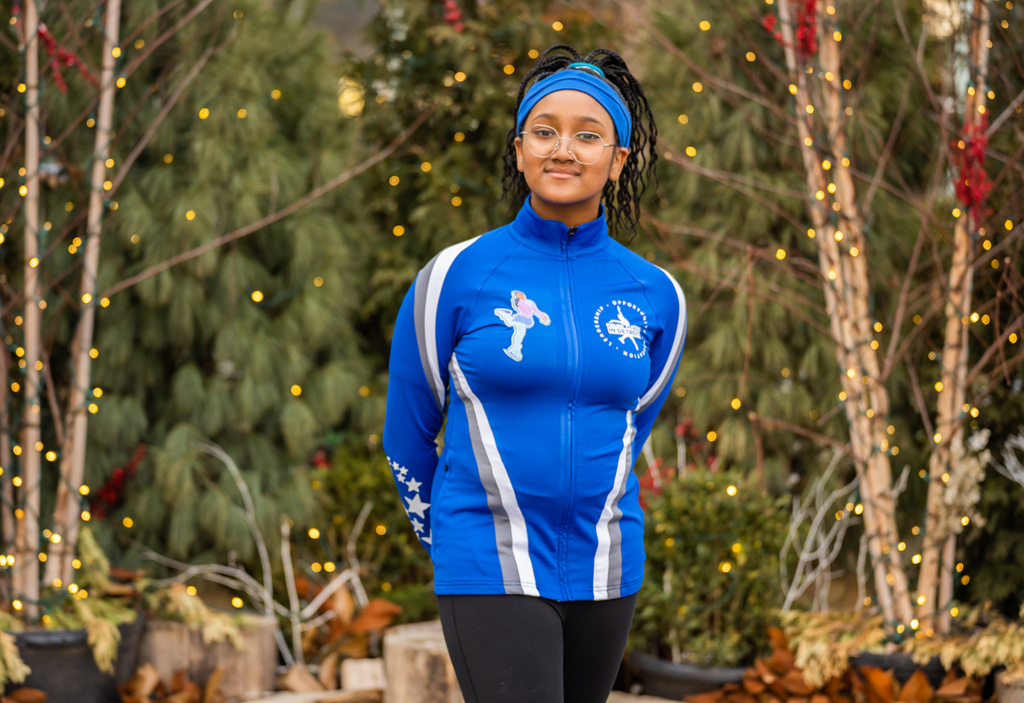 "I'm going to try my darnedest get a figure skating scholarship in college. This program has taught me so much and has given me so many opportunities that I couldn't not use it." – Ty'Lynn
At the Community Foundation for Southeast Michigan and Project Play, we strive to lift up the impactful work of our grantees who are creating positive permanent change in people's lives throughout southeast Michigan. This post is part of a series of profiles about our youth sports grantees.
Project Play: Southeast Michigan is driven and funded by the Ralph C. Wilson, Jr. Foundation's Youth Sports & Recreation focus area in partnership with the Community Foundation for Southeast Michigan and the Aspen Institute Sports & Society Program.