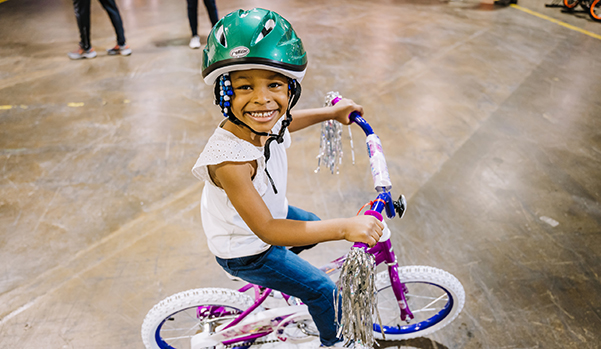 Supporting Happier, Healthier Childhoods with Free Bikes 4 Kidz
"I ride my bike to school every day, and I do that year round. Summer, winter, rain, snow." Bob Barnes' almost daily seven mile commute from his home in Royal Oak to Bloomfield Township where he teaches high school gives him time and space to daydream, reflect, and process his thoughts. As a passionate cyclist who began his career in the automotive industry, Bob found himself looking for a way to give back and to share the benefits of biking with others. Biking is not only good for the environment, it improves physical and mental health, creates community amongst cyclists, and is a tool for fun, freedom, and independence, especially for young people.
Bob was inspired to launch the effort in 2018, after learning about the Free Bikes 4 Kidz model launched by Terry Esau in Minnesota in 2007. The Detroit organization is the eighth of (now) twelve affiliate organizations nationwide. As Executive Director of Free Bikes 4 Kidz (FB4K), Bob's passion for cycling and desire to do good intersect. The nonprofit collects used bikes that would otherwise end up in landfills, refurbishes them, and gives them to kids whose families cannot afford bikes.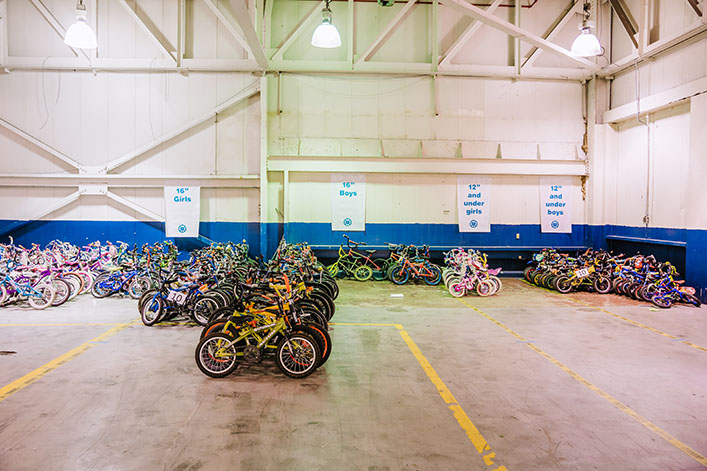 They operate from September through December, concentrating all their activities – and overhead costs – in four busy months. The organization collects thousands of bikes each fall, any they require warehouse space where they can store the bikes and set up work stations for volunteers to refurbish the bikes. Since they only operate for a short period, they've been able to find organizations willing to donate unused space. In 2021, the Piston Group Detroit provided Free Bikes 4 Kidz with an otherwise empty warehouse in Southwest Detroit.
Every year, FB4K hosts a big giveaway event before Christmas. The event usually attracts a lot of media attention, which has resulted in an increase in interest, bike donations, volunteers, and distribution requests every year. For an organization whose model relies heavily on community members, the extra attention has been especially welcome.
Last year, Free Bikes 4 Kidz partnered with Home Depot to collect bikes at 22 of their locations across southeast Michigan during a big collection drive in early October. People were able to drop their used bikes off at a convenient location, and the logistics around collecting and transporting bikes to the warehouse in a given time period became more manageable.
With thousands of bikes collected, volunteers are needed to help fix bikes and run the annual event. In 2021, FB4K engaged 1,575 volunteers who spent 6,600 hours fixing up the bikes over a 10-week period. The organization works with families and nonprofit organizations like church groups, neighborhood groups, and schools to sign up kids to receive the free bikes. At the end of the year, they were able to give away over 2,000 refurbished bikes and new helmets to kids in metro Detroit. Bob proudly notes that "the process brings together people of all backgrounds, people who might never cross paths otherwise. The whole community comes together to make it happen."
Ashia Phillips, who is the CEO and Co-Founder of D-Town Riders has been volunteering with Free Bikes 4 Kids since the beginning. "The first year was crazy, I personally touched every single bike that came into the warehouse, which was like 11,000 bikes. The second year, probably the same thing." She finds the work especially meaningful. "I'm so selfish. I enjoy seeing all the kids and all the parents be so happy. When they are happy, it makes me happy. It does something to my energy. When I see the joy that they're getting I just suck it all up. I'm a selfish philanthropist like that. And it's personal to me because this wasn't around when I was a kid. Nobody was doing anything like this. It's beautiful."
Funds from philanthropic partner, the Ralph C. Wilson, Jr. Legacy Funds for Youth Sports, have helped the organization purchase more repair stands and tools as well as upgrade their website with a volunteer registration system. This made it easier for Free Bikes 4 Kidz to handle the volume of bikes they received in 2021 and make the most of volunteers' time and expertise.
Last year's giveaway event was held just a couple weeks before Christmas on Saturday, December 11 and Sunday, December 12. Dozens of kids were pre-registered to shop for bikes in the safe, socially distanced space.
A few kids shared about their interest in biking and their biking plans: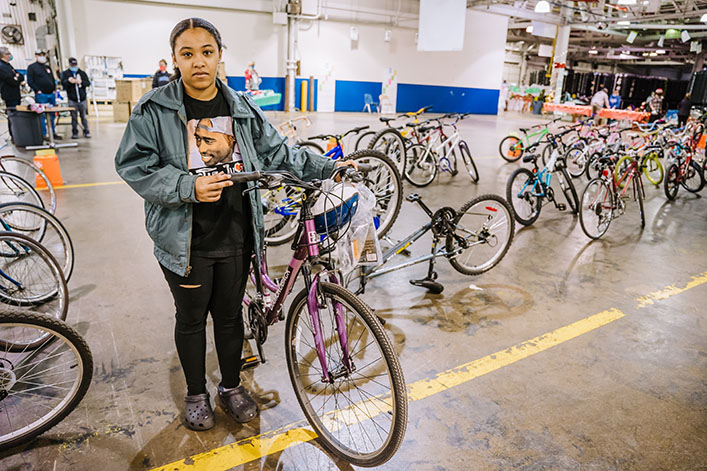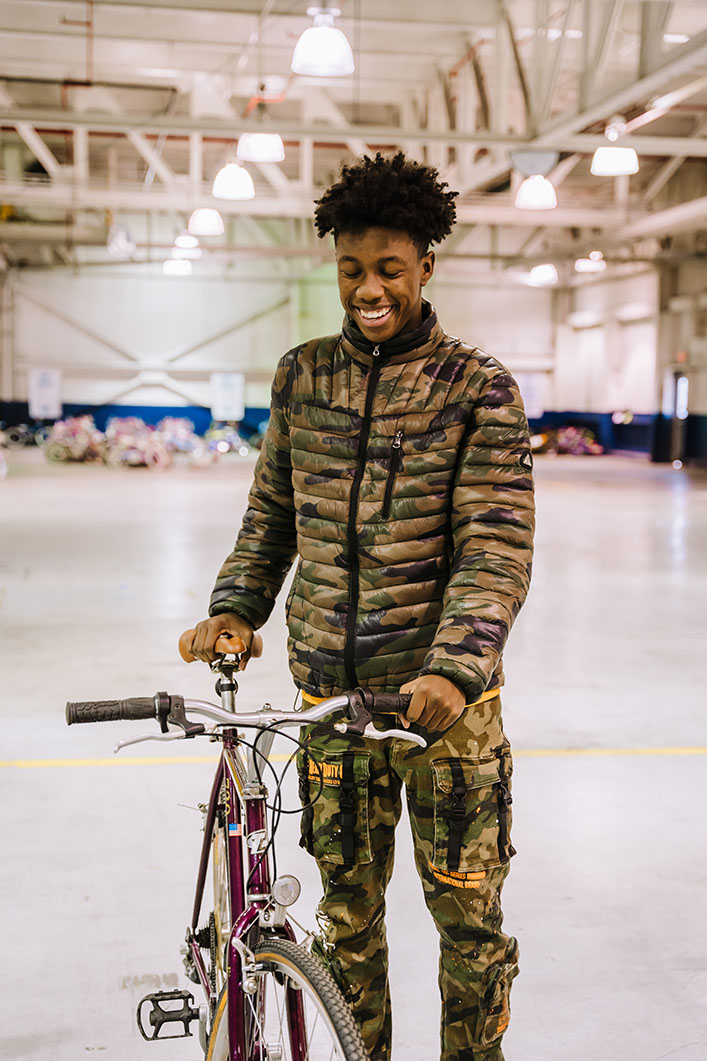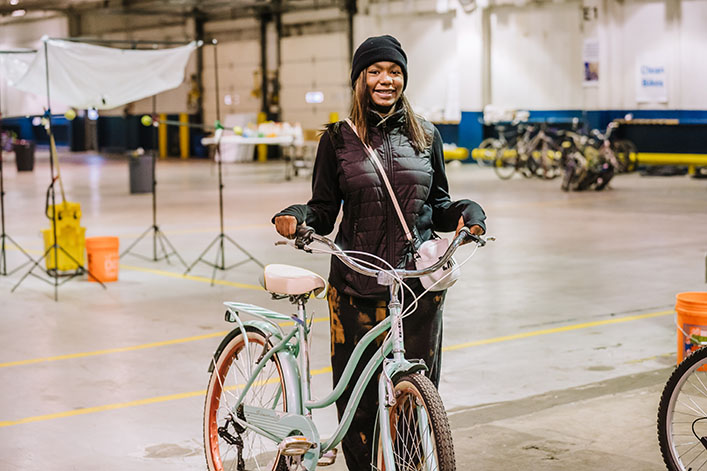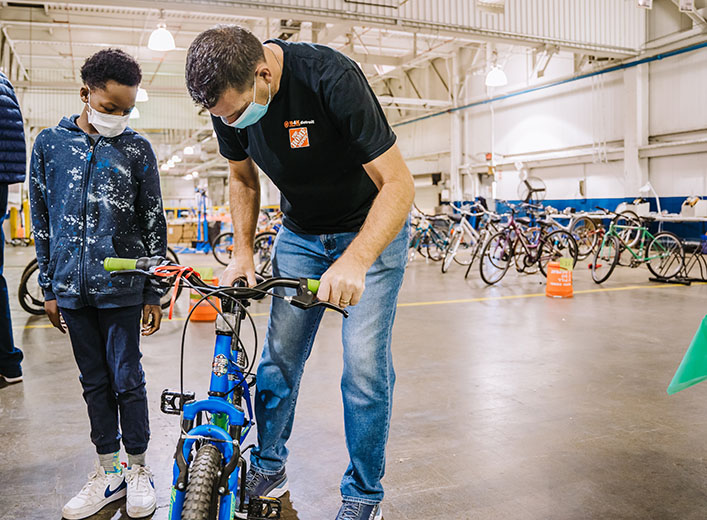 ---
At the Community Foundation for Southeast Michigan and Project Play, we strive to lift up the impactful work of our grantees who are creating positive permanent change in people's lives throughout southeast Michigan. This post is part of a series of profiles about our youth sports grantees.
Project Play: Southeast Michigan is driven and funded by the Ralph C. Wilson, Jr. Foundation's Youth Sports & Recreation focus area in partnership with the Community Foundation for Southeast Michigan and the Aspen Institute Sports & Society Program.